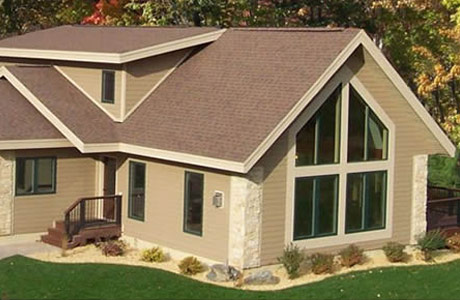 In keeping the tradition of being a leader in the northern Wisconsin building circles, CornerStone Custom Builders, Inc., has announced that its GreenStone model home has been certified as a National Association of Home Builders (NAHB) Green Built Home.
CornerStone is one of only five builders in the state of Wisconsin to attain this national certification and the GreenStone is the only home in northern Wisconsin to be nationally recognized as a NAHB Green Built Home that meets and exceeds the sustainable building and energy standards.
The GreenStone model was further certified by two additional state certification programs: the Wisconsin Energy Star Home Program and the Focus on Energy NewHomes Program which is implemented in partnership with the state of Wisconsin Environmental InitiativeProgram.
Glenn Schiffmann, President of CornerStone Custom Builders, headquartered in Eagle River, said the fact is CornerStone has been building "green" for many years and his company made a commitment over a year ago to actively promote green building and construct a green built model home.
"Based off of our standard building specifications, we have created a set of Green Built specifications that gives our homeowners the option to certify their home or not. We are committed to providing our homeowners with a healthier, more comfortable, and energy efficient home that will last them a lifetime," said Schiffmann.
It is not just CornerStone customers that have taken notice of CornerStone's commitment to build more socially responsible and eco-friendly; professionals in the "green" building industry have recognized this commitment as well.
"CornerStone Custom Builders set out to create a new model that could showcase the most cost-effective and best technologies available in sustainable construction," said Robin Pharo, president of Treysta Group, LLC, a company that specializes in sustainable buildings and building operations.
"This process started with their already 'green' process of building houses in their components plant and added on efficient lighting, HVAC equipment, regional building products and healthier building materials," added Pharo. Rich Urban of E3 Home Performance Services, LLC, a third-party verification expert involved in certifying the GreenStone model, said CornerStone recognizes that more energy efficient homes will be required by building codes in the future and energy efficiency is the basis of "green" building.